(Please see further down this page for our Covid procedures)
WHAT IS OSTEOPATHY?
It is a safe and effective "hands on" treatment that can relieve pain, stiffness, weakness and restriction in joints, muscles and ligaments in your back, neck, arms or legs. Osteopaths can improve the way your body functions by getting everything to work together in harmony.
Here's what the NHS says about osteopathy:
https://www.nhs.uk/conditions/osteopathy/
Your osteopath will use a range of different techniques in your treatment, such as stretching, massaging, manipulating your spine and joints, applying pressure or getting you to push back against the therapist.  This helps your body recover from strains, injury, wear and tear and other problems.  When joints are manipulated they sometimes click – this isn't things being "put back in place" but bubbles forming when the joint is stretched.  It's a bit like the sound when a bottle of wine or jar of jam is opened and it isn't painful but might surprise you the first time you hear it!
Sometimes there is a little soreness after treatment, a bit like your first session at a gym, but this is usually short-lived.  It is very rare to get any long-term problems after osteopathy.
Osteopathic manipulation – what can it help?
Patients come to osteopaths for a wide range of problems:
Neck and back pain, rheumatic pain, arthritic pain in hips, knees, shoulders.
Trapped nerves, sciatica, neuralgia, tennis elbow, golfer's elbow, frozen shoulder, adhesive capsulitis.
Joint pain, fibromyalgia, headaches, migraine, pregnancy or childbirth related strains.
Sports injuries, RTA and industrial injuries, repetitive strain injures, RSI, sciatica, sprains and strains.
Postural problems, pulled muscles, period pain, shin splints, heel spurs, plantar fasciitis.
Osteopaths also work with some types of circulation problems (restless legs, cramp, cold feet etc) and other musculoskeletal problems. Some forms of vertigo and dizziness respond very well to osteopathy, too!
If you're in the Grays, Thurrock, Essex area and you've got a bad back or neck, aches or pains anywhere in your body, osteopathy is one of the best treatments available. If you're wondering who can fix my back, neck, shoulder, knee, hip, elbow or almost any part of your body then give us a call on 01375 396402 and see how we can help. If you want to know, "what can I do about my back pain?", who can click my neck, where can I get my back cracked – just call and make an appointment.
The secondary effects of other health problems may also be addressed; for example although we do not treat asthma directly, osteopaths may help the stiffness and postural changes (barrel chest, raised shoulders etc) that are found in asthma sufferers and this can improve the patient's overall wellbeing.
Please note that as a small private profession, osteopaths are not able to undertake extensive (and expensive) research into the effectiveness of treatment for a wide range of conditions.  Therefore this list is to give you an example of conditions commonly presented to osteopaths; it is not a claim that there is cast-iron scientific evidence that osteopathy is proven to be of benefit, which would be a breach of trading and advertising standards legislation.
What are we doing about covid-19?  Is it safe to have treatment?
In response to the coronavirus situation, here are the changes to our procedures that have been implemented at Grays Complementary Clinic.
 When you arrive we will run through a checklist with you to make sure it is safe for you to have treatment.
We have made the following changes to our procedures so that we are as safe as possible:
We reviewed our hygiene procedures and have replaced cotton towels with paper ones in the kitchen and toilet areas.  The cushioned chairs have been replaced with wipeable plastic ones.
Contact areas such as door handles and desktops are regularly wiped down with a suitable cleanser throughout the day.  Magazines and other items have been removed from the waiting area.
We check the temperature of all staff and visitors using an infra-red non-contact thermometer. Anyone with a forehead temperature of 37° or above will be sent home.  We will wear a suitable mask and expect you to do the same.  If you don't have one, we have a few available to purchase.
Please do not attend if you have a raised temperature, dry cough, sore throat, unusual headache or other flu-like symptoms or have lost your sense of smell or taste recently.   Please phone us if you wish to cancel or if you are unsure whether to attend. We will not charge for late cancelled appointments in this situation.
We will assess the situation day to day and further changes or closure will be considered.
If you require a telephone appointment for advice, to discuss your symptoms or for an exercise plan, this can be arranged – just call us on the number below.
We sincerely hope that you and your family stay well in the coming weeks and months.
Kind regards
Peter Still (osteopath) and the staff of Grays Complementary Clinic Ltd
01375 396402
#osteopathy #osteopath #coronavirus #covid-19 #health-and-safety
FREQUENTLY ASKED QUESTIONS:



Is it painful?


Treatment does not normally hurt, and is often very relaxing, but if the area is very sensitive you may be a little sore (not normally worse than the original pain).  A two year study in this clinic shows that about one in ten patients get temporary tenderness after their first treatment, and follow-up treatments are less likely to cause this reaction.  This is a bit like being sore after your first session in the gym.




Can it cause any permanent harm?


Very rarely more serious adverse reactions could occur – this is usually injury to blood vessels or other body structures that are already damaged by another health problem.  An osteopath will ask a lot of questions about your general health and do various tests before starting treatment, to reduce the risk of these complications.   If you have any concerns please ask the osteopath.




Can you put discs back?


No, no-one can put discs back but osteopathy may help your body heal faster. You might hear a click during the treatment. This is a bubble forming in the joint when it is stretched, not discs 'going back in place'.




Can anyone have treatment?




Does my doctor need to be involved?


No, you can go to an osteopath without seeing your doctor first. We may send you back to your doctor if we can't help you or we need other tests like X rays.  Alternatively for faster results we can send you for private X-rays, MRI or ultrasound scans.  We are happy to receive referrals from doctors, midwives etc. We usually send your doctor a note to let them know we are treating you, and details of the diagnosis and likely outcome – but if you do not want this to be sent we will respect that.




Do I need to undress?


Yes.  We can't treat you through thick clothing so you may need to remove jeans, skirts, shirts etc.  Loose stretchy clothing may be ok but if we need to massage the affected part of your body, your skin needs to be uncovered.  If you have a neck or shoulder problem it is ok to just remove your shirt or blouse.  If you are uncomfortable about undressing, you may wear a swimming costume, sports clothing or loose / stretchy garments, or have a towel or blanket to cover you.



https://www.youtube.com/watch?v=zWKrqtwtEjY<br>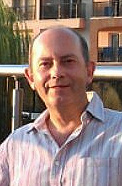 Who will I see?
Your Osteopath is Peter Still BSc(ost).  Peter has lived in Thurrock since 1971 and graduated from the British School of Osteopathy in 1993. He uses Manipulative and Cranial Osteopathy, is registered with the General Osteopathic Council and is a member of the Institute of Osteopathy.
He is a treatment provider for AXA PPP, Cigna, Simply Health, HSA and other health insurers.  He also works for several injury management companies, especially in the field of RTA / whiplash claims, and has arrangements to provide treatment to employees of several local companies – from very small businesses to multinationals.
In his spare time Peter is a salsa dancer and VERY bad golfer, organises a local fun run to raise funds for local good causes, and takes part in an exchange scheme with a French family every year.  He is also a keen D.I.Y -er and is also involved with Orsett village forum and Orsett In Bloom, a team of volunteers that give their time to keep their local area looking good. He is a registered foster carer and likes to involve himself with local community issues.
Back treatment in Thurrock – think Grays Complementary Clinic for your back doctor, neck guru, spine expert, joint wizard or muscle master.