WHAT IS IT?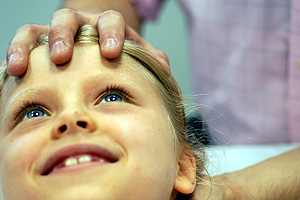 Cranial or Craniosacral Osteopathy is a very gentle treatment in which the head, base of the spine and other areas are held while the therapist feels for any abnormal tension or distortion and encourages the body to re-balance itself.  A slow wave-like tension that passes through the body is checked and balanced.
Cranial osteopaths believe that strains to the body in general and the skull (cranium) in particular can adversely affect your health.  These strains could be caused by a difficult, complicated or stressful birth – especially where forceps or suction are used – or where the baby has become stuck and had to be rescued by emergency caesarean, or was facing the wrong way, breech position etc.  They can also be caused by injuries later in life – falls, road accidents, dental treatments, epidurals and illnesses such as meningitis – which can leave strains in the skull or the membranes that cover the brain and spinal cord.
WHAT CAN IT HELP?
It may help children and newborn babies that have sleep, feeding, distress or minor behavioural problems as well as anyone that doesn't like the "manipulative" approach.  It may also be helpful for headaches, stress and a variety of other conditions.
Please note that as a small private profession, osteopaths are not able to undertake extensive –  and expensive – research into the effectiveness of treatment for a wide range of conditions.  Therefore this list is to give you an example of conditions commonly presented to osteopaths; it is not a claim that there is cast-iron scientific evidence that osteopathy is proven to be of benefit, as this may be a breach of trading and advertising standards legislation.
 FREQUENTLY ASKED QUESTIONS:
Does it hurt?

No, as no force is used there is no soreness after treatment.  Some people feel slightly light headed afterwards; most feel very relaxed and want to sleep when they get home.

How old does a child need to be to have cranial treatment?

Babies can be treated from birth!  Some osteopaths work in obstetric departments assessing new-born babies, as the earlier any distortion or compression of the baby's head is relieved, the better they will develop.

Will I need to get undressed?

No, cranial osteopathy is done through light clothing.  However, if the osteopath needs to assess a structural problem such as a spinal curve you may need to undress to underwear for the assessment.
Your cranial osteopath is Peter Still BSc(ost).